Dreamcatching Accommodation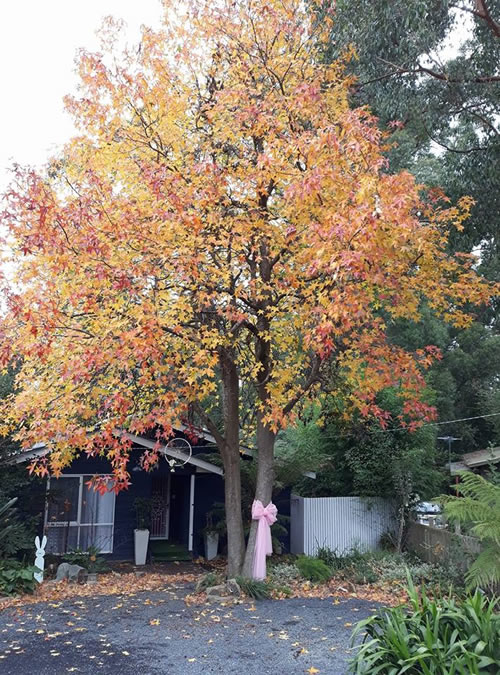 The house that will make you feel calm and happy and fall in love all over again.
Sleeps - 4 people (2 couples or 4 singles)
2 bedrooms - 2 Kingsize Beds or 4 King Singles
2 bathrooms
2 living areas
​As you drive down the little street you are greeted by a huge pink bow on the gate and Julies favourite Liquid Amber. There is no better way to begin your getaway of happiness and tranquillity.
From the pink front door to the two gorgeous bedrooms with very different design detail. It is hard to believe that you are only an hour and a half from Melbourne - you will feel as if you have been transported to another world, your very own hideaway.
The design and layout of the home is like a warm hug on a winters day. It is comfortable and relaxing yet full of surprises and is appointed with everything that you will need - including something special just for you left personally by your host, Julie.
You can choose to sit on the deck and cook a BBQ or relax inside and watch the world meander by. Wander throughout the property to discover every little secret corner Dreamcatching has to offer. Afterwards you can discover the local area of the gorgeous Yarra Ranges!
Our History
Your host, Julie, spent a year finding the right place to be able to offer other people a tranquil and unique home in which to relax. When she first saw the Liquid Amber in the front yard she knew she had found the perfect place.
From that moment Dreamcatching was born. Julie set to work creating a space that will leave you surprised around every corner of the home. Her design tastes and skills were an accident as she chose pieces that she loved from local antique and collectable stores.
Julie followed her heart and personality to decide how the home should be designed and has fashioned a home she is proud and excited to share with everyone.
As you walk through the pink front door you can see Julie's personality shine through!